EVO S.L. participates in ESIEM '23 showing in its stand the open job offers and the requirements for internships in the company.
The Employment and Engineering Fair, held on 22 March, was organised by the Seville School of Engineering and brought together more than 50 participating companies at its facilities.
EVO S.L. as a Sevillian company specialised in engineering services for electric mobility has shown its maximum involvement in this meeting, which is an opportunity to establish relationships between engineering students and companies that offer internships, vacancies and jobs of interest for students in their final years of studies or recent graduates.
The EVO stand was attended by four young employees of the company, representing the areas of Human Resources, and the Software, Hardware and Systems departments, who gave personalised attention to the hundreds of students who came to show their interest in the vacancies offered, as well as in the company's own activity in the electric mobility sector.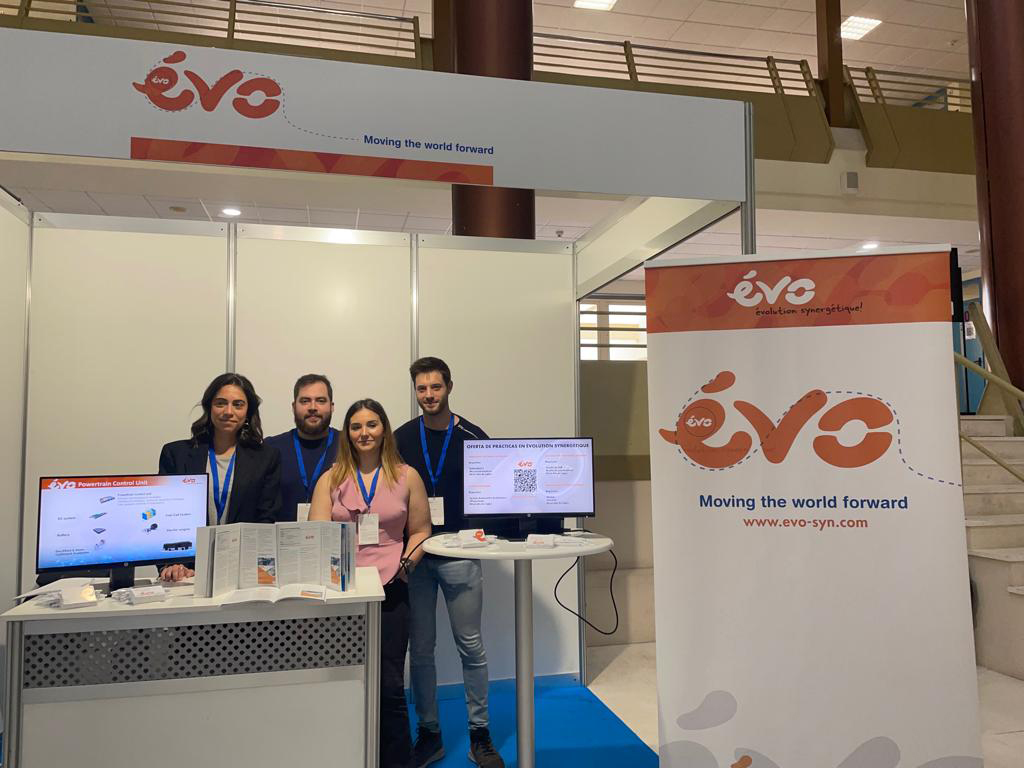 Both the stand and the conference given at the School of Engineering by EVO's Business Development Manager, Javier Galeano, were conceived as a close meeting point for sharing experiences and two-way dialogue between the company and students, with the aim of analysing common interests, alliances and future prospects in the sector. At the same stand and through a QR code, interested parties could access the vacancies and send their candidature through a technological and intuitive process of Curriculum Vitae Express, for which more than 400 were received.
In his speech, Galeano thanked the organisers for the impeccable management of the conference and its usefulness, stating that
"EVO is growing and wants to do so with the help and experience of the engineers of the University of Seville, because that is how our company was born and because it is still very closely linked to the university where we were trained and which is part of what we are"
In his presentation, the head of EVO's business development emphasised the key moment of transformation that the mobility ecosystem is going through, derived mainly from electrification, sustainability and the digitalisation of the value chain in the automotive sector. And he pointed out that,
«this sector, so important and traditional in our country and in Europe, is already making its way towards a new productive, business, social and economic model, and is moving towards a new concept of mobility as a service: more sustainable, smarter and safer»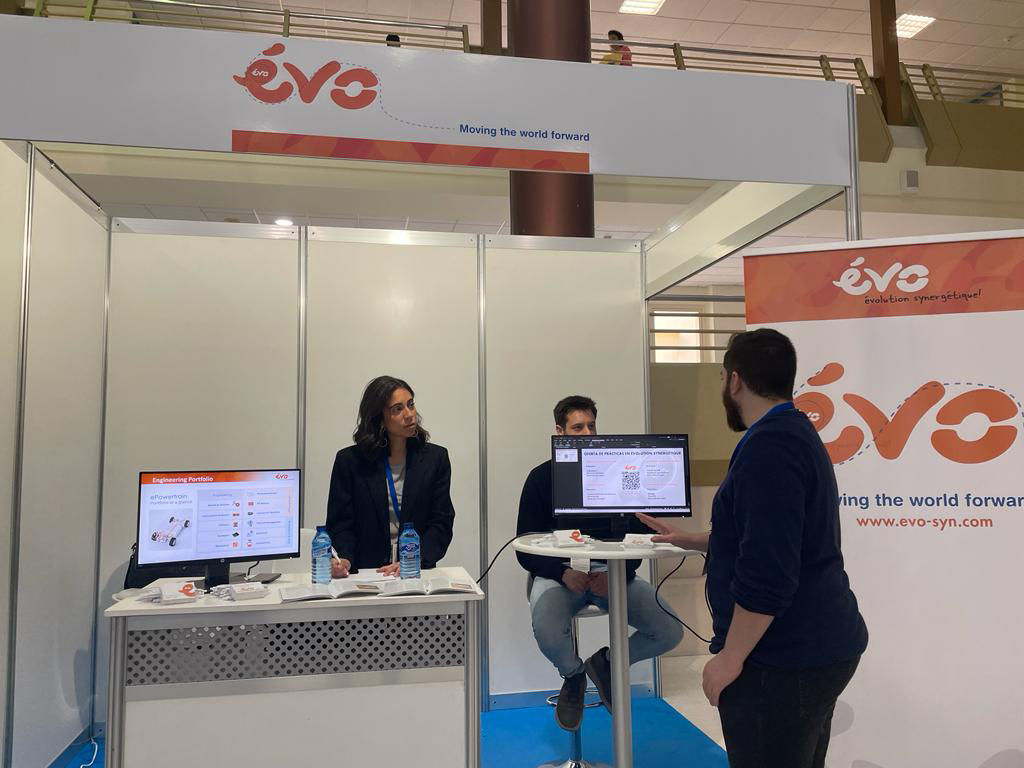 EVO, Évolution Synergétique Automotive S.L. is a leading company specialising in engineering and zero-emission mobility, offering innovative and technological solutions for the automotive and mobility sector. Headquartered in Seville, it was founded in 2018 and has been part of the EVO Group (Évolution Synergetique Holding S.L.), headquartered in Seville, since 2020.
EVO is a leading technology partner for European manufacturers (OEMs) and suppliers (Tiers 1/2), and a strategic reference in the design and development of components and vehicles, battery electric vehicles (BEV – Battery Electric Vehicles) and hydrogen vehicles (Fuel Cell Electric Vehicles, FCEV).
A team of 50 people, mostly engineers specialised in the development of electric propulsion systems, has enabled us to develop pioneering projects of special importance, with more than 35 references in e-Mobility projects in various European countries. We have the Innovative SME seal, a distinction awarded by the Ministry of Science and Innovation.
We are focused on the highest customer satisfaction and its future projection, which is why major mobility brands have trusted EVO for unique R&D&I projects in the market. Among them:
Embedded software development
Automotive Embedded Software enables the control and operation of components and transforms the driving experience. Our experience in the development of Embedded Software allows us to carry out serial developments under automotive standards, such as Automotive SPICE with AUTOSAR architecture.
Development of systems and functions
EVO develops, integrates, tests and validates electric mobility systems for series. We analyse the specific needs of the customer in order to size and optimise the solutions required for each application and the elements of the power electronics system. We are experts in test specification and data analysis.
Hardware development
Hardware development is fundamental for the technical and economic viability of projects. Our experience in hardware development allows us to offer comprehensive support to our customers, accompanying them from the rapid prototyping phase through to series production.
Functional safety (FUSA)
At EVO we develop and implement functional safety systems under the highest automotive standards (ISO-26262).
Cybersecurity
Our cybersecurity experts ensure cutting-edge practices in hardware and software engineering, under automotive standards (ISO-21434), aimed at mitigating any risk of intrusion, increasing detection capability and reducing incident response time.