On March 29th, the constitution of the Andalusian Green Hydrogen Alliance took place at the Palacio de San Telmo. The alliance is currently made up of 150 companies and entities, including EVO S.L., a Seville-based company involved in important green hydrogen projects related to end uses and mobility applications. The event was presided over by the President of the Andalusian Government, Moreno Bonilla, who stated that Andalusia has a key role as a global reference in the production of green hydrogen. During the speeches, Francisco Montalbán, President of the Andalusian Hydrogen Cluster, emphasized the importance of this Andalusian association dedicated to promoting hydrogen technology as an energy source in the region.
At the end of the institutional event, the companies associated with the Andalusian Hydrogen Cluster, including EVO S.L., posed for a group photo, showing their confidence in Andalusian business, professional, innovative, associative, and institutional capital, prepared to continue advancing in the green hydrogen economy as one of the most efficient technological solutions for decarbonizing the economy, as well as leading the transformation of sectors that are difficult to electrify, such as mobility, where green hydrogen is a clear bet for present and future.
From Andalusia, many companies, including EVO S.L., look to the future, contributing professionalism, innovation, and the ability to create synergies and public-private collaboration to continue advancing in the transformation of the productive model, decarbonization, and the promotion of the clean hydrogen energy vector.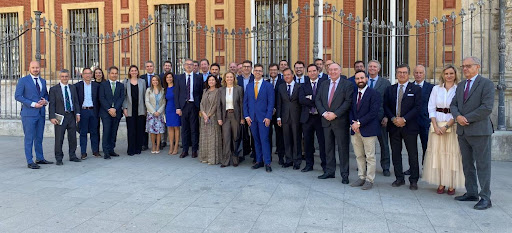 Group photo of the Andalusian Hydrogen Cluster, following the institutional event of the Andalusian Green Hydrogen Alliance.
EVO S.L. is a Seville-based technology company that offers engineering services and solutions in electric mobility. It is strongly committed to the processes of innovation, decarbonization, and technological development of electric mobility, promoting a new concept of more efficient, sustainable, safe, and intelligent mobility.
More information